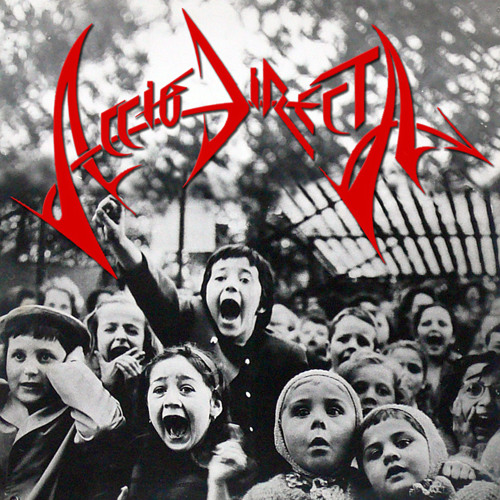 "Imagínate"
Year: 1990
Country: Catalonia (Spain)
City: Barcelona
Label: Moments Trashics
Format: LP , CD
Tracks: 11
Time: 40 min.
Genre: rock
Style: Hardcore Thrash Metal
ACCIO DIRECTA
was a pioneer band in the both spanish HC/punk and Metal scenes.
It was created in late 1985 with the referent of the californian hardcore, crossover and metal influences clear and compelling and their lyrics were in spanish and catalan and were about social issues, politics or personal subjects.
The founding members were Jordi on bass, Mimo (of Subterranean Kids) on drums, guitar and Enric Raul Marcos and vocals.
This first training wrote the first six issues and touched next to thee band Skatalà in the "Mensakas Bar" on Blanqueria street, Barcelona, ​​the summer of 1985.
In 1986 Julian (Ross) replaced Mimo and made a series of concerts.
First in the disco "Communique" next to Lethal Gospel (USA), although the first official poster of the band was to Afflict (Holland) and Deprov in Les Fonts de Terrassa.
In 1988 the german label "Slow Records" became interested in
ACCIO DIRECTA and made their first songs in a studio.
Mimo (Subterranean Kids) put the voices.
Four of these songs were published in Germany in 1989 in the compilation: "There is nothing I like to say" on LP format.
Later joined Puril singer and most of songs that were created would be the debut and only LP
.
"Moments Thrashicos" (Semaphore Records) released the album "Imaginate" in 1990.
ACCIO DIRECTA played live concerts almost the entire Spanish territory, mainly in Catalonia and Basque Country.
They toured in Andalusia and also played abroad.
Made eight concerts in Switzerland in August 1990.
In 1992
ACCIO DIRECTA was dissolved because of the differences arising on the future of the band.
The bassist, drummer and guitarist formed Space Junx. The rest of the band continued to play music in another bands such as: Skatalà, Dr. Calypso, Tropel Nat, Legion, The Del Hoyo, The Fenicians, Speed Tortugas, Soulid... and more.