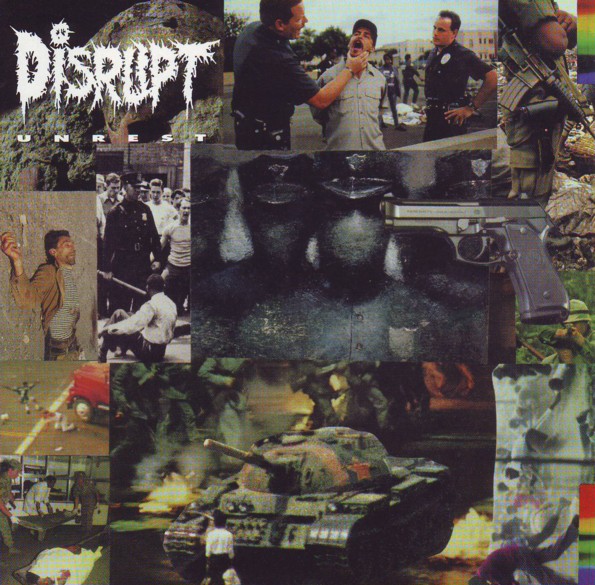 "unrest"
Year: 1994
Country: US
City: Lynn, MA
Label: Relapse
Format: CD
Tracks: 30
Time: 47 min.
Genre: rock
Style: Crust Punk
This is I think the better way to listen to almost the total discography of this essential crust-core band from the 90's decade. After several recordings with a medium or even low-fi quality sound, the band had the opportunity to record this long album with an excellent sound production. The clear and simple definition of crust-core is here. 30 tracks and more than 1 hour of extreme and noisy music, with good ideas and principles. Here there is a booklet with lyrics, pics, etc. I think nowadays there was a new edition with different cover and artwork, but the songs are the same. High recommended for fans of Extreme Noise Terror, Doom, etc.
Discogs , Lastfm , Download , Wikipedia , Facebook , Myspace
,
To listen To
"smash divisions"
Year: 1991
Label: SOA
Format: EP
Tracks: 10
Time: 12 min.
Genre: rock
Style: Crust Punk
There is no much to say about this: Here is another Disrupt piece of noise coming from 1991: "Smash divisions" delivers ten live tracks, recorded in New Haven Connecticut in summer of 1991. This was released by italian label "SOA Records", according to the label "Fist pressing of 1.200 copies went out in hard plastic bag, yellow/black labels and 100 copies in red vinyl. Following copies had soft plastic bag, different colored vinyls and white/blue labels." The record comes in gatefold cover including lyrics and in the usual crust trend the songs are not printed in the right order, though the back cover tracklist is correct :). I don't know in how many different colors this came out, i have seen a blue and a dark purple version, probably there must be some more colors. I have to keep it short this time, check Disrupt official myspace for a detailed history and this blog for other Disrupt records. Actually this was posted in spring of 2012 in the first days of this blog, here you got it in a fresh new rip and this is a kind of the beginning of some reposts that will follow (Nausea, Panikos & other records that were posted in the first days). I remember when I bought this EP in 91 or 92 and I recived at home the "SOA Records" catalogue in format paper, of course. Then was one of the few punk labels interested in made and distribute the face more extreme, fast, raw and noisy of punk and hardcore. The majority was for the melodic bands like "Epitaph Records" or for the new school metal-core bands from "Victory Records". This boy from Rome did and he continues to do a great task for the extreme genres, I recommen check out his catalogue.
Discogs , Download