"post pop depression"
Year: 2016
Country: US
City: Detroit
Label: Caroline
Format: CD , LP
Tracks: 9
Time: 41 min.
Genre: rock
Style: Post Punk Dark Pop
"I feel like I'm closing up after this", says 68-year-old Iggy Pop of "Post Pop Depression", his collaboration album with Queens Of The Stone Age's Josh Homme, Arctic Monkeys drummer Matt Helders and multi-instrumentalist Dean Fertita. Does that mean it's his last ever release? Well... probably not. But almost certainly, this album marks the closing of the last great chapter in Iggy's musical life – The Stooges, "The Idiot", "Lust For Life", "The Passenger" and some of the most iconic performances in rock history – as we know it. Iggy Pop sought out Homme after the two met awkwardly at the Kerrang! Awards some years ago, thinking he'd be a good writing partner and vibesman for his last roll of the dice. The two swapped notes over email for months (poetry, rock war stories, punk rock, garage rock, demos...), before Iggy turned up unannounced on Homme's lawn, jumped in his car and drove to Rancho De La Luna studio deep in the Californian desert. There, the two aimed to make something brilliant out of nothing, with the depth of Iggy's Bowie-produced 1977 proto-punk classics "The Idiot" and "Lust For Life", the sonic textures of QOTSA's "Like Clockwork" and the best backing band America could offer in 2016.
"avenue B"
Year: 1999
Label: Virgin
Format: CD, LP
Tracks: 11
Time: 40 min.
Genre: rock
Style: Garage Rock
Discogs
,
Download
"Tribute to Iggy Pop"
Year: 1997
Country: various
Label: Royalty
Format: CD , LP
Tracks: 20
Time: 60 min.
Genre: rock
Style: Garage Rock
Discogs
,
Download
"American Caesar"
Year: 1993
Country: US
City: Detroit
Label: Virgin
Format: CD , LP
Tracks: 16
Time: 75 min.
Genre: rock
Style: Garage Rock
"American Caesar" is a 1993 album by Iggy Pop. After the success of
Brick by Brick
, Pop opted to continue with that album's lyrical themes while toughening up the musical foundation. Consequently, the album is often considered one of his stronger 90's albums.
The cover of the UK edition contained the following text: "Parental Warning: this is an Iggy Pop record". Videos were made for "Wild America" and "Beside you". Other notable moments on the album include "Highway Song" and an ambitious cover of the 60s standard "Louie Louie" (made famous by The Kingsmen) for which Iggy wrote his very own set of humorous, politically fueled lyrics. It was later used during the opening credits of Michael Moore's
Capitalism: A Love Story
. The first single from the album, "Wild America", reached number 25 on Modern rock tracks. The album was not as commercially successful as its predecessor, but it did fare well in the UK and sold well throughout the 90s in America and most of IGGY POP fans think this is his best album ever.
MASTERPIECE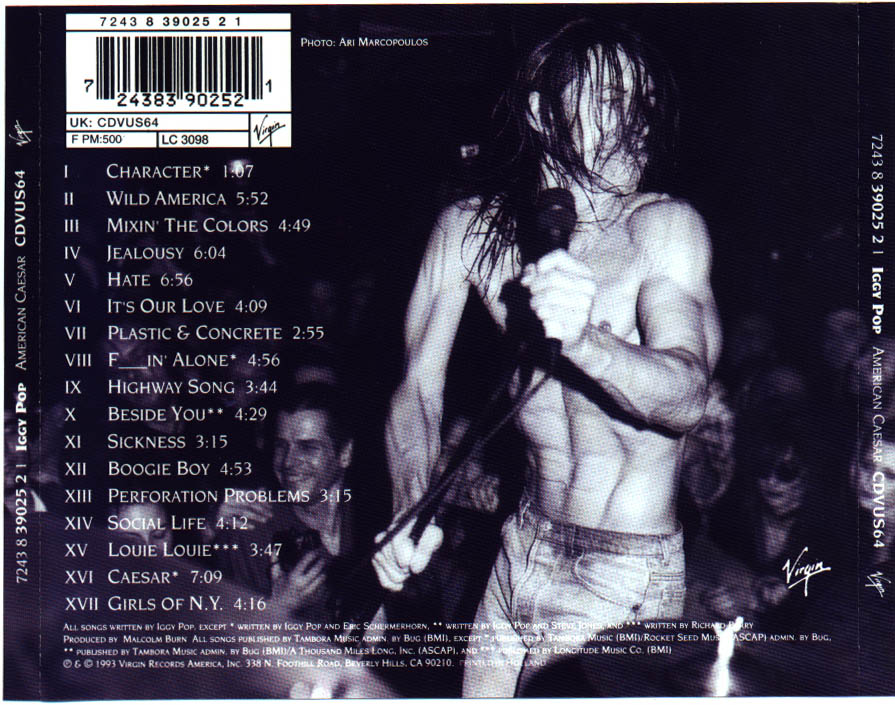 "brick by brick"
Year: 1990
Country: US
Label: Universal
Format: CD , LP
Tracks: 14
Time: 38 min.
Genre: rock
Style: Garage Rock
Discogs
, Download
"Instinct"
Year: 1988
Country: US
City: Detroit
Label: A&M
Format: CD , LP
Tracks: 10
Time: 30 min.
Genre: Hard Rock
Before you lay down good money for "Instinct", go see His Igness in the flesh. In recent shows, he's dropped the stylish art punk of "blah blah blah..." and regressed to good old Stooges nyah nyah nyah, twisting and bawling with genuine animal madness and chowing down on old bones like "I Wanna Be Your Dog" with renewed relish. As good as "Instinct" is — it's as close as the drug-free 80s Iggy has come to revving up the vintage violence — it isn't quite good enough. There's too much bash and not enough slash in Bill Laswell's kill-joy production; he turns the brass-knuckle guitar of ex-Sex Pistol Steve Jones into a standard heavy-metal roar. Iggy, if anything, is heavy "mental" - as shown by the frayed rhythms, sawtoothed distortion and lupine howling of Funhouse and Raw P
ower
- and subterranean lovesick blues like "High on You" and "Tuff Baby" could use the extra crackle that they get onstage. Brief, this is not the typical Iggy Pop album in the sense of garage rock and punk rock influences, but rather an album closer to rhythm'n'blues, hard rock and even maybe heavy metal album. But despite all, the recording is good and well done. (*NOTE = this review is from
HERE
).
"Lust for life"
Year: 1977
Country: US
City: Detroit
Label: Sony
Format: CD , LP
Tracks: 9
Time: 37 min.
Genre: rock
Style: Garage Rock
No... you are not wrong, you see the right "Lust for life" cover but not the official in the western world, but the soviet USSR cover design and artwork of 1977. After The Stooges disbanded this is the second solo release and his second collaboration with David Bowie, following "The idiot" earlier in the year. As well as achieving critical success, it was Pop's most commercially popular album to date, and remains his only Gold-certified release in the UK. Musically is good but neither surprises nor experimentations, this is pure garage rock with punk influences. Simple, raw and direct. Nothing more.