"trouble maker"
Year: 2017
Country: US
City: Los Angeles
Label: Epitaph
Format: CD, LP
Tracks: 14
Time: 28 min.
Genre: rock
Style: Punk Ska
Discogs
,
Download
"Life won't wait"
Year: 1998
Country: US
City: Berkeley
Label: Epitaph
Format: CD , 2 x LP
Tracks: 22
Time: 70 min.
Genre: rock
Style: Punk Reggae
"Life Won't Wait" is the fourth studio album by the californian mainstream rock band
RANCID
. It was released on June 30, 1998 through "Epitaph Records". It was released as the follow-up to the too much mainstream "...And ut Come the Wolves" (1995). The album branches out from Rancid's punk and ska roots to explore roots reggae and 50s rockabilly, and dabbles in elements of dub, funk and other forms of music, some people compared the album with The Clash did with "Sandinista!". The album's personnel includes some of
RANCID
's influences and contemporaries such as members of The Specials and The Slackers. Lyrically, the album discusses riots, revolution, politics and historical events as well as making references to the Illuminati and Bakunin.
Frankly
I've never
been a
RANCID fan
, nor

think it's

a truly

punk band, but

rather a

mainstream

rock'n'roll

band

.

I had

a chance to

see them in concert

,

and its style

offered was

overly professional

,
monetary
and too much serious.
I do not think
their
"super

punk"

physical aspect
is
real, b
ut
false and artificial.
That said, I
must confess
that
RANCID members

are excellent

musicians, with

a very

high technical level

and

excellent production

work

.

This "

Life Will not Wait"

is perhaps

one of the

most overlooked

albums,

but definitely

is my favorite of

all

RANCID

discography

. The band can make great punk songs like "
Black Lung", "1998" or "Something in the World Today", but also true old vintage 50s rockabilly as "Lady Liberty" or "New Dress, and also very good ska / reggae songs like "Wrongful Suspicion" or "Hooligans". Of the two songs actually recorded in Jamaica, "Hoover Street" is a poignant addict's lament with sweet soulful vocal assists from Hepcat, while the title track features Tim and Lars sparring with dancehall kingpin Buju Banton against a canvas of urgent old school ska. Self-produced, culled from life experience, and played live in large measure, Life Won't Wait is as ambitious and independent as it gets. They are not anarchists but strictly musical they make good songs no doubt. Special mention for the great
RANCID
bassist player, Matt Freeman, who I wondered to listening to his way of play the bass guitar.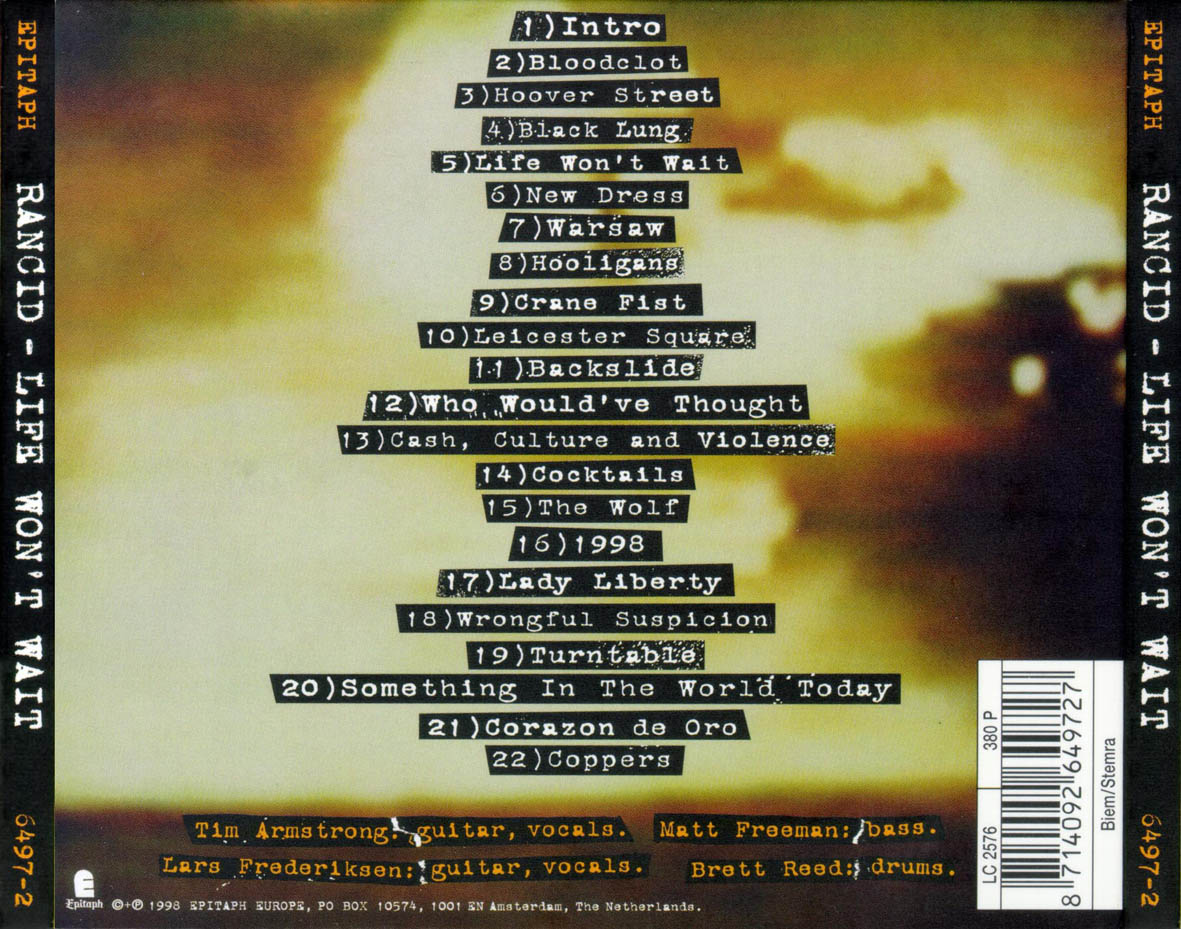 "and out come the wolves"
Year: 1995
Country: US
City: Berkeley
Label: Epitaph
Format: CD , LP
Tracks: 19
Time: 50 min.
Genre: rock
Style: Punk Ska
Discogs
,
Bandcamp
"let's go"
Year: 1994
Country: US
City: Berkeley
Label: Epitaph
Format: CD , LP
Tracks: 23
Time: 44 min.
Genre: rock
Style: Punk Ska
Released on the influential indie label Epitaph Records, "Let's go" initially achieved little commercial success, though it appealed to the band's fan base. However, the surprise success of punk rock bands like The Offspring, Green Day and Bad Religion in 1995 brought forth more mainstream interest in the album, and it ultimately reached #97 on the Billboard 200. Rancid use to show (here too) a 80's punk aesthetics (mohawk, chains, black leather, etc.) but I think the band's soul is the same as the pop and rock mainstream bands, with no difference at all. Nothing to do with Do It Yourself, anarchism, squats or alternative ethics... but said this, strictly musical Rancid has a poin of album quite good in this kind of mix of few distorted punk rock and ska music 1979 style ("2 Tone", etc). This second album is also very long.
BEST RANCID FOR BASS
(book)
15 punk rock hits transcribed note-for-note for Matt Freeman's bass lines from this neo-punk band. Includes Vocal/Melody line in standard music notation. Bass lines written in standard notation and Tab. 80 pages.
Amazon